$39 | 30 minutes
Perfect for when time is of the essence. This quick facial will rejuvenate the skin and leave you feeling renewed. Includes a double cleanse and nourishing face massage followed by a customized mask.
*Does not include extractions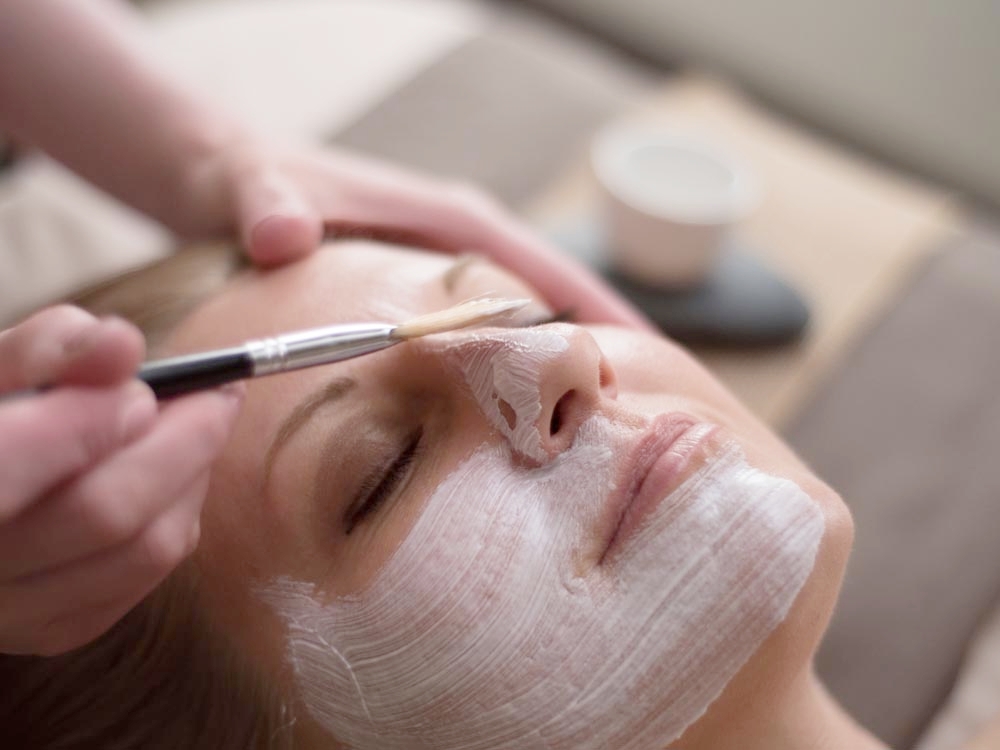 $69 | 60 minutes
This classic facial is tailored to each client's needs. Includes deep pore cleansing, extractions, massage, and a mask.
Products used during this treatment are chosen after a careful skin analysis performed by one of our skilled estheticians.
$89 | 75 minutes
The Advanced Facial includes a deeper exfoliation and an Eastern facial technique known as gua sha. Gently gliding a flat and round jade stone along the skin will relieve pain, stiffness, and flush out tissue to increase blood flow.
Gua sha with jade stone's purifying and grounding properties is beneficial in combating dryness and breakouts, while helping to improve skin tone and promote anti-aging.
Rocky Mountain CBD Facial
$89 | 60 minutes
A restorative solution for all skin types! Soothe irritations, balance oiliness, and counteract visible signs of aging with our Rocky Mountain CBD Facial. Featuring a Denver based skincare company, this hemp-derived treatment is rich in healing botanicals such as rosehip, aloe vera, and jojoba. This treatment includes a unique dry brushing application to stimulate the lymphatic system and eliminate built-up toxins or other blockages that create puffiness or dull skin. The skin will be detoxified and replenished with an algae treatment, followed by a CBD treatment mask chosen to best suit your skin type. As CBD works to regulate sebum production, calm inflammation, and reduce breakouts, the skin will be left more hydrated, soothed, and radiant.
Ultimate Rose Quartz Facial
$109 | 90 minutes
A luxurious customized facial that includes a double cleanse, exfoliation, and extractions followed by a nourishing rose quartz face massage. Rose quartz speaks directly to the heart chakra and is known for its loving energy, compassion, and connection to oneself and others. Healing rose quartz will work to reduce inflammation, promote the renewal of skin cells, and increase circulation to the skin.*
This indulgent facial also includes an herbal eye treatment and high frequency to treat acne, reduce the appearance of fine lines, and rejuvenate tired, puffy eyes. The Ultimate Rose Quartz Facial will beautify your skin with love and happiness. *Contraindications may apply.
$69 | 60 minutes
Relax with bourbon and improve muscle tone in a whole new way with a treatment tailored to men! Packed with antioxidants from the oak casks in which it matures, a Smoked Bourbon enzyme mask will deliver age fighting nutrients as it works to release build up within hair follicles while softening skin texture. Followed by a muscle-toning face massage, enjoy the benefits of our high frequency treatment as it shrinks enlarged pores, reduces signs of aging, and combats breakouts.
*If you plan on shaving before your facial, please do so at least 4 hours before service.
$49 | 45 minutes
This facial is designed to resolve and re-balance delicate skin concerns associated with teen years. A 30-minute facial followed by a 15-minute consultation with teen and parent for follow-up treatment recommendations. Facial will include a light exfoliation to help dissolve dead skin cells and unclog pores, if needed -- gentle extractions will help clear and treat visible blemishes. Finishing products will be carefully chosen based on teen's skincare needs.
*Parent/guardian must be present for guests 10-15 years of age. Consent form must be signed prior to treatment by a parent/guardian for guests 16-17 years of age, but they do not need to be present at the time of service.
$49 | 25 minutes*
Who said beautifully rejuvenated skin is unattainable in under a half hour? Created by German physicians, scientists, and skincare experts - MedSkin's treatment masks were formulated to restore lost skin tissue and functionality by stimulating the process of biological regeneration. Currently available at Jalan in two effective options, this express treatment includes a single cleanse, treatment mask, scalp stimulation, replenishing collagen mist, and impactful results in only 25-minutes! Choose between Procell Cell Renewal mask to protect skin from premature aging and minimize the appearance of fine lines and wrinkles, or Collagen One mask to revive and regenerate the skin's natural balance, while soothing irritations and redness.
Both treatment options are free of parabens, fragrances, colorants, & silicones.
*Due to the limited time available in express services, add-ons can not be applied to the Express Collagen Facial.
$39 | 30 minutes
Bring back vitality to the skin with a 30-minute facial designed to boost radiance and soothe hormonal breakouts that can arise during pregnancy. A double cleanse is followed by lymphatic facial massage to flush fluid accumulation and reduce puffiness. Our gentle, yet effective exfoliation will work to dissolve dead skin cells, revealing a more toned and radiant complexion.

Mama-To-Be will feel refreshed and glowing from the outside in!*
Contraindications may include and are not limited to the following: deep vein thrombosis, preeclampsia, high blood pressure, at-risk pregnancy, and gestational diabetes. No high-frequency add-ons to prenatal services.
Take your service to another level of care & results with Service Add-Ons.
These upgrades can be added to your service without adding time.
Click below to learn more!
Getting the most from your visit
In order to provide the best service we'll need to learn a little more about you.
First time guests should plan to arrive 30 minutes before your appointment to fill out our electronic intake form and enjoy the full experience and complimentary amenities for your Jalan Journey.